Get Your Head Out of Your Grass!
With the first week of spring behind us, many will be on the lookout for the first offenders of the warmer months. Dollar spot, large patch, and Pythium blight, among others, will begin to crop up once again. Some of these diseases will be harder to diagnose than others and especially so with the unusual weather patterns that have plagued much of the continental United States from this past winter to present.
Fortunately, there are experts to turn to in times of need, like resident NC State University turf diagnostician Lee Butler. He receives roughly 500 sample submissions a year through the NC State University Turf Diagnostics Lab and he is an invaluable resource when experiencing a diagnostic crisis. Most samples are submitted within just a few months, so this can be a lot to get to in peak periods of stress. To speed up the process for the grower and for Lee, here are some tips to making a submission as helpful as possible:
Cover All the Bases
Details, details, details! The more information, the better when it comes to making a diagnosis. Please provide the following information:
Grass type and use

Species, variety, when established, etc.
Putting green, fairway, athletic field, home lawn, etc.

Recent chemical applications

What/when/rates/etc.
Include fungicides, herbicides, insecticides, PGR's, etc.
Provide records from past 30 days if possible

Recent cultural practices

Aerification, verticutting, topdressing, etc.
Fertility inputs over the past 30 days
Mowing height and frequency

Symptom Description

When did symptoms appear?
When was the sample collected?
Describe plant symptoms – i.e., leaf spots, chlorosis, wilted, etc.
Describe stand symptoms – i.e., spots, patches, rings, etc.

Symptom Distribution and Progression

Describe the spatial pattern – i.e., localized, random, or widespread
Describe the microclimate – i.e., wet, dry, compacted, thatchy, etc.
Make No Assumptions
It's very easy to assume the symptoms occurring in a stand of turf are due to a disease. Very often, this is not the case. In an average year, about half of all the turf samples submitted are not affected by a disease, but by an abiotic stressor or injury of some variety. Frequently, details that would pertain to disease control might be given, but an important maintenance detail has been left out that could help exactly pinpoint the root of the issue.
A Picture is Worth a Thousand Words
Having physical plugs of the affected turf is absolutely the most helpful aspect in reaching a confident diagnosis, but often a few good pictures can reveal further clues. Pictures can show the surroundings of the affected turf, as well as spatial patterns of symptoms or the progress of symptoms over an area. These photos can allow the diagnostician to reach a conclusion quicker and more accurately.
Tips for Taking Pictures and Observations Used in Diagnosis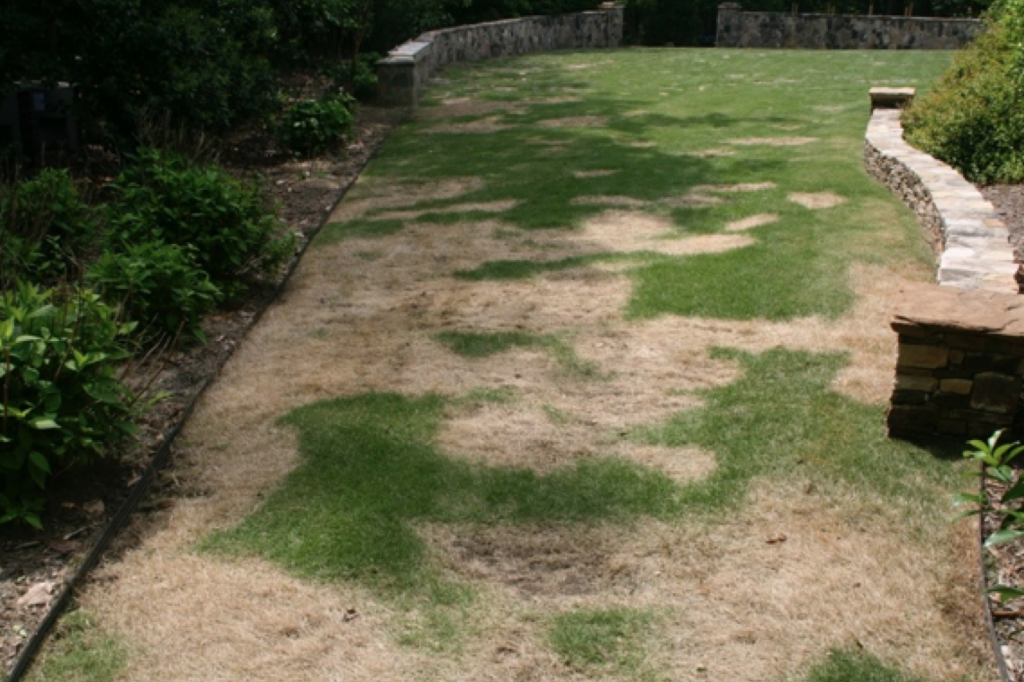 Get your head out of your grass! Photos taken from standing height looking out across the affected area are typically more useful for diagnostics than close-ups. Back up from the problem area and be sure to include affected and unaffected turf. While a plug of turf from the lawn pictured above may just look plain dead, the cause of death may be trickier or more time consuming to pinpoint without this photo. Notice the lack of symptom progression and the angular pattern of dead turf. This damage was caused by a mis-application of a herbicide.
Take pictures in overcast conditions if possible. Diffused lighting is the best lighting for accurately observing details or differences in turf. Direct or partial sunlight can cause too much reflection or variability in color to make a clear observation of affected and unaffected turf. Take photos early in the morning, late in the evening, or just wait for a cloud to pass in front of the sun!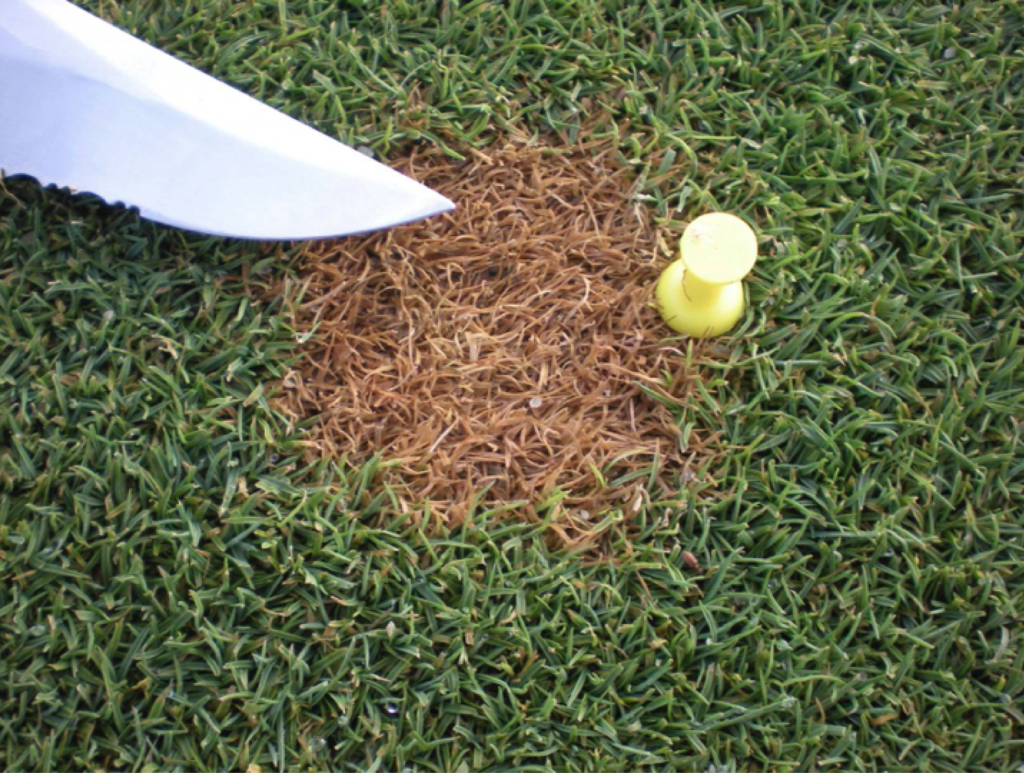 Take close-up pictures of the affected turf, with reference items for scale. This photographer goes even further by marking the border of the affected turf to be able to track and observe progress over time. If the symptoms do not expand, it may be an indicator of an abiotic issue or at least it narrows down the possible pathogen. These observations given to the diagnostic lab could be very helpful when receiving a sample.
Remembering these small details will make a world of difference this season to receive a diagnosis quickly and accurately! However, keep in mind that accurate diagnostics cannot rely on pictures alone!
Learn how to submit a turf sample.
This article was written by Allison Anthony. Allison is a Ph.D. student in Dr. Jim Kerns' Turf Pathology Lab.