If I Had a Dollar for Every Spot!
It's time to welcome a new genus to the turfgrass pathogen family: Clarireedia! This genus has been suggested to contain a familiar enemy called Sclerotinia homoeocarpa, the causal agent of dollar spot.
This new genus has just been recently suggested in a paper published in Fungal Biology this April (Salgado-Salazar et al, 2018).Through the power of phylogenetics, researchers have established that Sclerotinia homoeocarpa isn't that Sclerotinia at all. In fact, it's not even in the same family! If that's not enough, they have also described that what was previously observed to be a disease caused by one species, is actually a disease caused by four species! This brings us to this new genus, Clarireedia,that will contain four new species: C. homoeocarpa, C. bennettii, C. jacksonii, and C. monteithiana.
As far as the species that are of concern in the United States, C. homoeocarpa and C. bennettii won't be causing any issues. These two species appear to be limited to cool season grasses in the United Kingdom. C. jacksonii and C. monteithianaare the main offenders to worry about, occurring globally and on both cool and warm season grasses (although C. monteithiana has only been found on warm season grasses as of now). How these findings will affect the future of studying and controlling this pathogen remains to be seen, but it is most certainly a significant revelation. 
On the subject of dollar spot control research, there has been a particularly interesting result from a trial performed at NC State University's Lake Wheeler Field Lab. The study set out to determine the effect of spray volume on a fungicide's efficacy on dollar spot and took place from late April to mid June of this year. Three fungicides were included in the study (Xzemplar, Maxtima, and Secure), as well as three spray volumes (0.5 gal/1,000 sq ft, 1 gal/1,000 sq ft, and 2 gal/1,000 sq ft) applied every 14 days. A wetting agent (Fleet) was also added to each fungicide with the 0.5 gal/1,000 sq ft carrier volume as a separate treatment.
The graph above represents the AUDPC (Area Under Disease Progress Curve) for each treatment. This is the total amount of disease over the course of the trial, so the higher number here means less dollar spot control. Also, keep in mind that disease pressure for this trial was very high, with the non-treated control plots reaching an average disease severity of 33% on June 5.
From this graph, it can be concluded that the spray volume did not have all that much of an effect, with one exception. Secure responded incredibly well to a reduction in spray volume, with 1 gallon performing significantly better than 2 gallons, and 0.5 gallon performing significantly better than 1 gallon. These significant differences are indicated here in the letter groupings found next to the bars.
The reduction in efficacy for the Secure treatment with increasing spray volumes is a great example of fungicidal topical mode of action. Secure is a contact fungicide and one would expect this to happen since the plant does not absorb and translocate the active ingredient. In theory, a systemic product such as Maxtima or Xzemplar would be absorbed and translocated, therefore negating the effects of higher spray volumes as observed in this trial.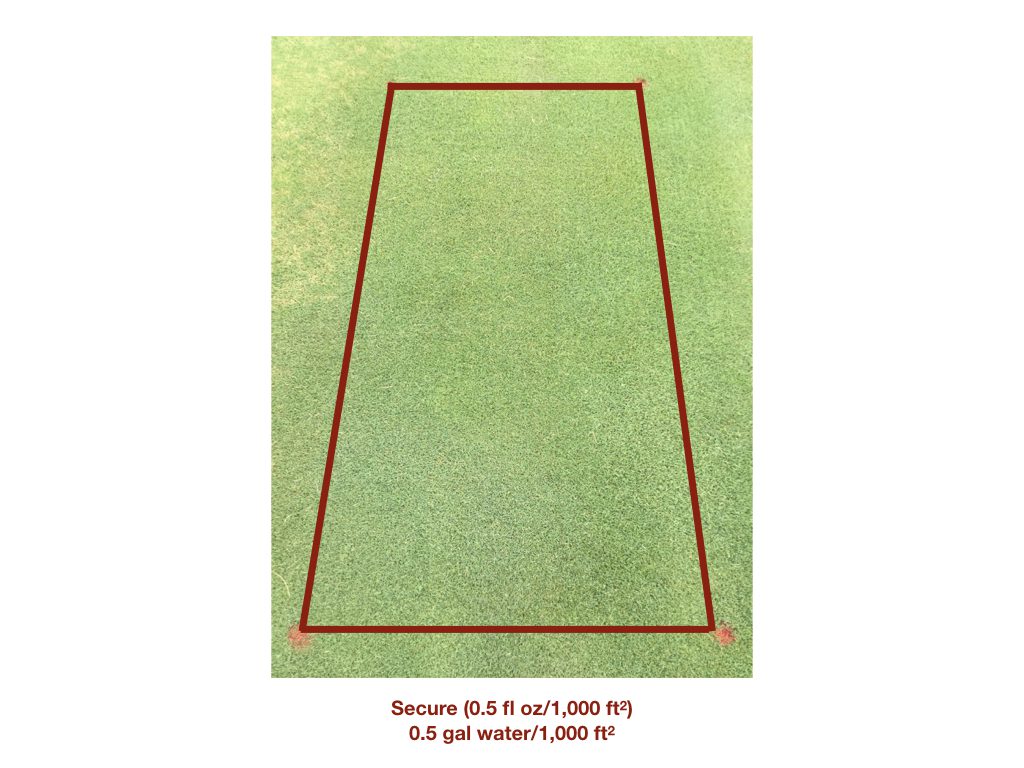 Above are pictures of the Secure treatments alongside the non-treated control, to which nothing was applied. These results display how impactful the spray volume can be and indicates that some products might benefit from reduced spray volumes. Perhaps, this could be another tool we can use in the battle against dollar spot. While more research is needed on a wider range of products, this is a very optimistic result.
Sources:
Catalina Salgado-Salazar, Lisa A. Beirn, Adnan Ismaiel, Michael J. Boehm, Ignazio Carbone, Alexander I. Putman, Lane P. Tredway, Bruce B. Clarke, and Jo Anne Crouch. Clarireedia: A new fungal genus comprising four pathogenic species responsible for dollar spot disease of turfgrass. Fungal Biology. 2018. ISSN 1878-6146.
This article was written by Allison Anthony. Allison is a Ph.D. student in Dr. Jim Kerns' Turf Pathology Lab.